A home renovation project can increase the value of your home, but it can quickly spiral out-of-control if you're not careful. Here are 12 things to keep in mind when determining your home renovation budget.
Have a Plan
Having a plan, and sticking to it as much as possible, is one of the most important things you'll need to do to keep costs down during your home renovation. Make a list of must-haves along with things you want, if the budget allows. Know what you can cut from the list and what needs to stay, no matter what. Have a realistic estimate of how much you can afford for stage of the renovation. Remodeling Calculator is a good place to find estimates for various renovation projects. These 32 tips will help you save during a home remodel.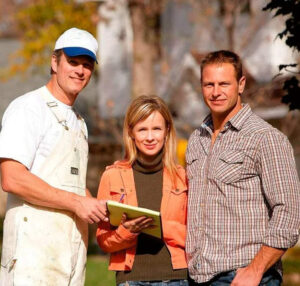 Choose the Right People
Don't just pick anyone to do the job. If you plan on hiring a contractor or designer, ask neighbors and friends for recommendations. Don't be afraid to do interviews and talk to more than one. Websites such as HomeAdvisor and Angie's List are helpful in sorting through reviews to find the right person for the job. Also, do research on what others have recently paid for similar work. You probably don't want to hire the most or least expensive contractor or designer. These 13 secrets will help you find a home renovation contractor you can trust.
Set a Limit
Something to keep in mind—you should spend no more on each room than the value of that room as a percentage of your overall house value, according to Zillow. Think of it this way: A kitchen generally accounts for up to 15 percent of the property value. That means if your home is worth $200,000, you'll want to spend no more than $30,000 on your kitchen remodel. These 20 home renovations will instantly add value to your home.
Don't Rush the Bidding Process
You should get at least three bids for your project, according to HomeAdvisor. Matt Parker, a real estate agent in Seattle and author of "Real Estate Smart: The New Home Buying Guide," says pay attention to the small details, like whether or not the contractor is on time to meet with you. Parker believes punctuality indicates whether a person is well-organized and that can translate to how well they stick to the schedule and budget.
Mix Materials
To save money, try mixing materials. Put hardwood floors in the living room and kitchen, but then use less-expensive flooring options in other areas such as the entryway, bathroom or mudroom. Tile and vinyl are less expensive than hardwood and can help keep your budget in check when used in some areas.
Do Some Work Yourself
Help out if you can. Offer to paint to cut down on costs or even tile the new kitchen backsplash, if you have the know-how. Chris Dossman, a real estate agent in Indianapolis, said by removing and discarding your old carpeting yourself, you can cut labor costs on the installer's bill, and every little bit of savings can help. Believe it or not, these are some of the craziest things found during a home renovation.
Prepare for Hidden Costs
There is a good chance there are issues hidden beneath the surface that may raise the cost of your home renovation. Zillow notes unforeseen problems, such as old wiring or plumbing that needs to be updated, can cause renovation projects to end up costing more than expected. Factor 10 to 20 percent of your total budget for unforeseen expenses.
Be an Over-Communicator
You're likely paying a lot of money for your home renovation, so don't be afraid to over-communicate with your contractor. Discuss your budget constraints up front, your must-haves and things that can be dropped if the budget doesn't allow for them. Over-communicating will keep everyone on the same page.
Consider Reclaimed Materials
Using reclaimed materials can save you some money on a home renovation. Reclaimed materials have been used before and are sold on the secondary market. Look for architectural salvage companies in your area and ask your contractor if they're working on any other projects where there might be discarded materials, like a rustic wooden door or vintage hardware, that could work well with your renovation.
Combine Projects
If you're going to do flooring in several rooms of the home, consider doing it all at once if possible. By combining projects, you can save money since it's easier for laborers to do everything at once, instead of treating each room as its own project.
Sell What You're Not Using
Are you doing a kitchen remodel in which you plan to replace all of your appliances? Consider selling items if they are in good condition. You can sell old kitchen cabinets, doors and hardware, too. You can list these items on websites such as craigslist and Facebook Marketplace. Take whatever you make on those items and use it to help pay for the renovations.
Think About Alternatives
You like the look of natural stone countertops but don't want the high price tag. You want porcelain tile in the bathroom but don't want to blow the budget. Talk with your contractor about how you can get a high-end look with lower-cost alternatives.